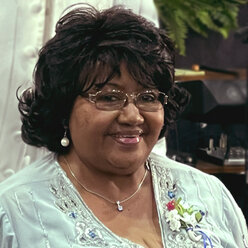 Born in Moline, IL, Evangelist Barbara McDonald has lived in Kansas City, MO for most of her life. She has served in ministry for over 45 years alongside her husband, Chief Apostle Hubert McDonald. She and her husband have been married since 1984. They are the proud parents of 8 adult children, some of whom work alongside them in ministry. Together, they studied under the leadership of Mother Elizabeth Tinsley and the Holy Spirit at Sacred Room Mission located in Kansas City, MO, where she also taught Sunday School. In 1997, she became the First Lady of Evangel Spiritual Temple, now known as EST International Ministries.
Evangelist Barbara McDonald is the founding president of Women of Faith, our women's ministry. Women of Faith provides a safe, supportive environment for women to engage with God and understand how to execute the work Christ has planned for their lives. Unique among women's ministries, Women of Faith includes under-21 members to help young ladies grow into strong, wonderful women of God.
As the Chief Apostle's partner in life and ministry, the First Lady's supportive influence can be felt in every aspect of EST International Ministries. She is always by his side spreading the Gospel of Christ, and she encourages the congregation to do the same. A living example that nothing is impossible with God, Barbara strives daily to share her testimony of how God has picked her up after being knocked down and has not let her fall since. Among her favorite scriptures, she cites Psalms 139:14, "I praise you, for I am fearfully and wonderfully made. Wonderful are your works; my soul knows it very well." Her favorite thing to say is that "God is Good!" because she knows that God will provide, protect, guide, heal, forgive, and love us no matter what as long as we have that strong faith in our Lord Savior.