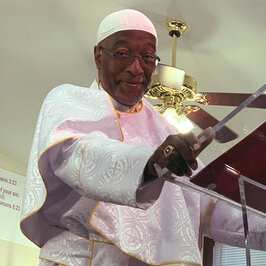 A native of Birmingham, AL, Chief Apostle Hubert McDonald moved to the Kansas City area as a young child. He has been in the ministry for over 45 years. He and his wife, Evangelist Barbara McDonald, have been married since 1984. They are the proud parents of 8 adult children, some of whom work alongside them in ministry. He studied under the strict no nonsense teaching of Mother Elizabeth Tinsley and the Holy Spirit at Sacred Room Mission located in Kansas City, MO, where he also served as assistant pastor for 12 years. In 1997, alongside his wife, he founded Evangel Spiritual Temple, now known as EST International Ministries.
An effective communicator of God's Word, Chief Apostle is widely known for his Holy Spirit-filled, dynamic teaching style which helps people apply the timeless truths of Holy Scripture to their everyday lives. In our weekly bible class, The Supernatural Word of God, he teaches practical application of Biblical teachings to train up true spiritual leaders to further advance the kingdom of God. As part of his ministry, Hubert works with teen parents, single adults, and married couples to help them develop the necessary skills to lead a successful life. A cancer survivor, he is an example of the power of God's influence on an individual's life. Known as a loving, jovial personality, he strives daily to embody one of his favorite sayings: Think Good Thoughts, Do Good Deeds.
Chief Apostle Hubert McDonald serves as a distinguished member of the local community. As an acknowledgement of his passion for humanity, Chief Apostle received the 2018 Martin Luther King, Jr. Humanitarian Award.